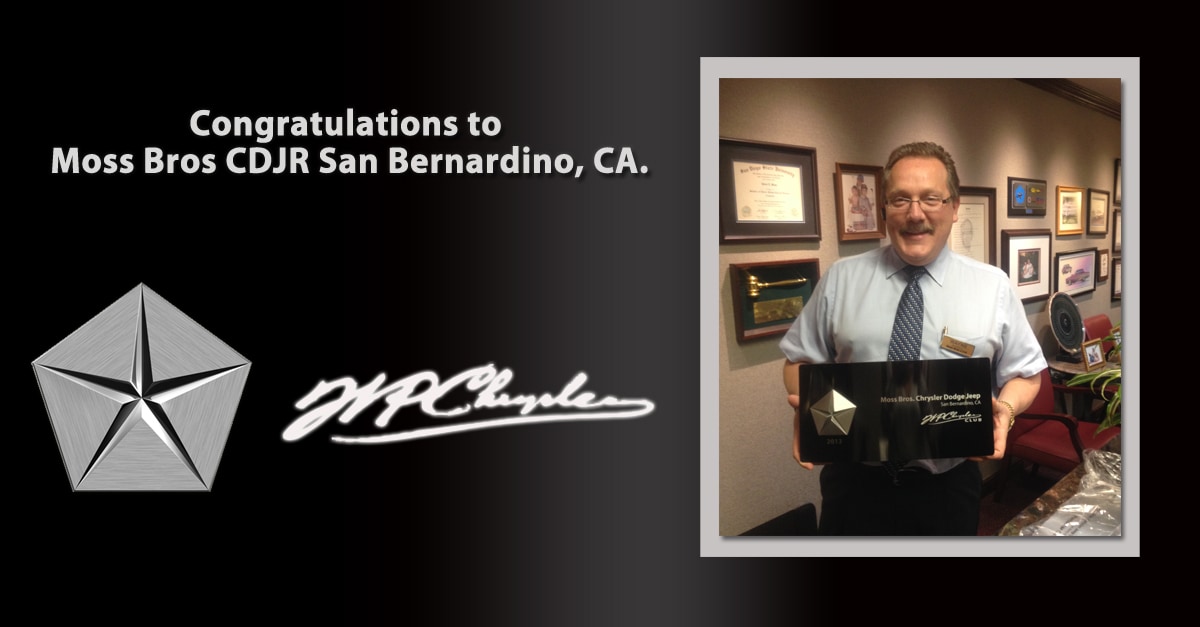 Moss Bros. Chrysler Dodge Jeep Ram San Bernardino is the proud recipient of the Walter P. Chrysler Club Award from Chrysler Group LLC. Presented to only those franchises who demonstrate superior achievement in sales, service, Mopar parts volume and customer retention. Moss Bros. is one of only 34 Chrysler, Jeep, Dodge, and Ram Truck dealerships in the United States to qualify for this prestigious honor for 2013.
The Walter P. Chrysler Award was established in 2011 by Chrysler Group as a way to nationally recognize and thank its leading dealerships for their hard work, dedication and overall performance in sales, service and parts.
"This special group of Chrysler Group dealers and their employees deserve our highest recognition for their consistently strong sales performance and unwavering support during 2013, a year in which Chrysler Group recorded its strongest annual sales since 2007," said Reid Bigland, Head of U.S. Sales. "We are honored to present these best-in-class dealers with our Walter P. Chrysler Club Award for their overall sales and Mopar parts sales performance."
The Moss Bros. motto "At Moss...You're the Boss!" is truly personified by the achievement of this recognition.
Moss Bros. Chrysler Dodge Jeep Ram has been a Chrysler Group dealer since 1987 and is located at 1100 South E Street, San Bernardino, CA.