Do your tires have enough tread to safely stop on wet road conditions?
Sufficient tire tread allows water to disperse from underneath the tire keeping your tires physically on the road and allowing you to stop within a shorter distance. Deeper tread allows for safer, quicker stopping, especially vital on wet, slippery roads. Replacing your tires ensures you will have optimum tread to safely drive and brake in wet weather.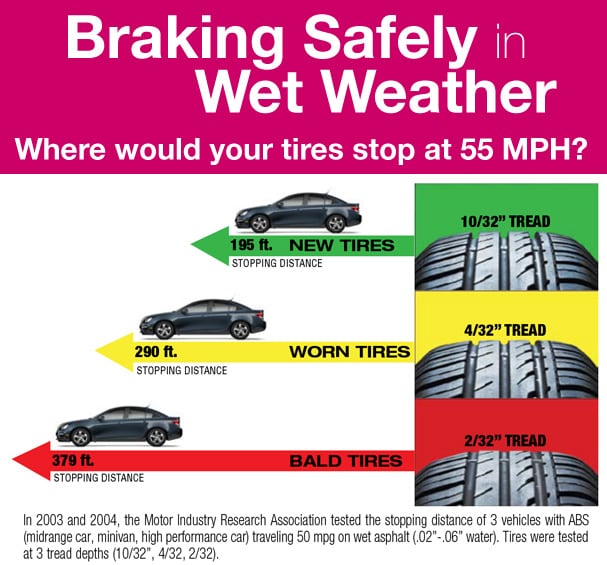 Tire Center
Do I need new tires?
Each and every service appointment at any Moss Bros. Auto Group dealership in Riverside, San Bernardino, and Moreno Valley comes with a no-cost multi-point vehicle inspection which includes an inspection of tire tread depth. As tires near the end of their life, the grooves will wear and the depth within grooves will be significantly reduced making it difficult for the tires to grip the road and maintain safe driving conditions, even on dry roads. Your Moss Bros. Service Adviser will keep you informed of your tires tread conditions and notify you when replacement is necessary.
Tire Maintenance
Taking care of your tires in the first step towards expanding their life cycle. Our Certified Service Technicians will check for correct tire pressure and set your tires to the pressure specified in your vehicle's owner manual or tire information placard. Over inflated tires become rigid and stiff and may cause the tire's contact with the road to be reduced. That leads to a rougher ride as well as uneven tread wear (also referred to as "center wear"). Under inflated tires have difficulty holding shape and ride flatter to the ground, causing tires to wear prematurely (often referred to as "shoulder wear").
Regularly rotating you tires as part of your regularly scheduled maintenance can help prolong the life of you tires by evenly spreading the amount of tread-wear on all four tires. In addition, you'll enjoy the added benefit of a smoother drive and taking stress off your vehicle's suspension components by reducing vibrations. In the long term, you will likely see reduced maintenance costs as will as keep the mileage warranty valid on your tires.
In addition to maintaining proper tire pressure and regular tire rotation, it is important that your vehicle's suspension is properly aligned. Misaligned tires can cause uneven tire wear. Indications that your vehicle may need an alignment include uneven tire wear, a pulling hard to the left or right while steering, a slight pulling to one side when you let go of the wheel for a couple of seconds, steering wheel vibration, or a crooked steering wheel while driving straight down a road. Having proper wheel alignment will also positively affect your pocketbook by increasing fuel efficiency and maximizing tire life.
Moss Bros. is proud to offer all of these Tire Maintenance services to help you protect your investment.
Shopping for Tires
Moss Bros. Auto Group is here to help you determine the right tire size, type, class and tread type for you and your driving style. We will help take the confusion away and help you understand what tire numbers mean, educate you on the differences in tire tread types, and review with you what the manufacturer recommends for your vehicle. Schedule an appointment today for your personal consultation.
Many tires are covered by a limited warranty which extends typically to an established mileage limit or tread limit. These limits vary from manufacturer to manufacturer and should be reviewed while make your tire decisions. Some tires do not include any type of warranty beyond defect in material or craftsmanship. Moss Bros. Service Advisers are here to cover warranty availability and limitations with you as you make your tire selection decisions.
Just for Moss Bros. Tire Customers
Moss Bros. Auto Group is happy to offer you no cost tire rotation and flat repair on all tires purchased from one of our eight dealerships. It is our commitment to you to offer superior customer service and show our appreciation for your business. Ask your Service Adviser for details!
With convenient locations in Riverside, San Bernardino, and Moreno Valley, California, we are here to serve you. Call today to schedule your next service appointment.