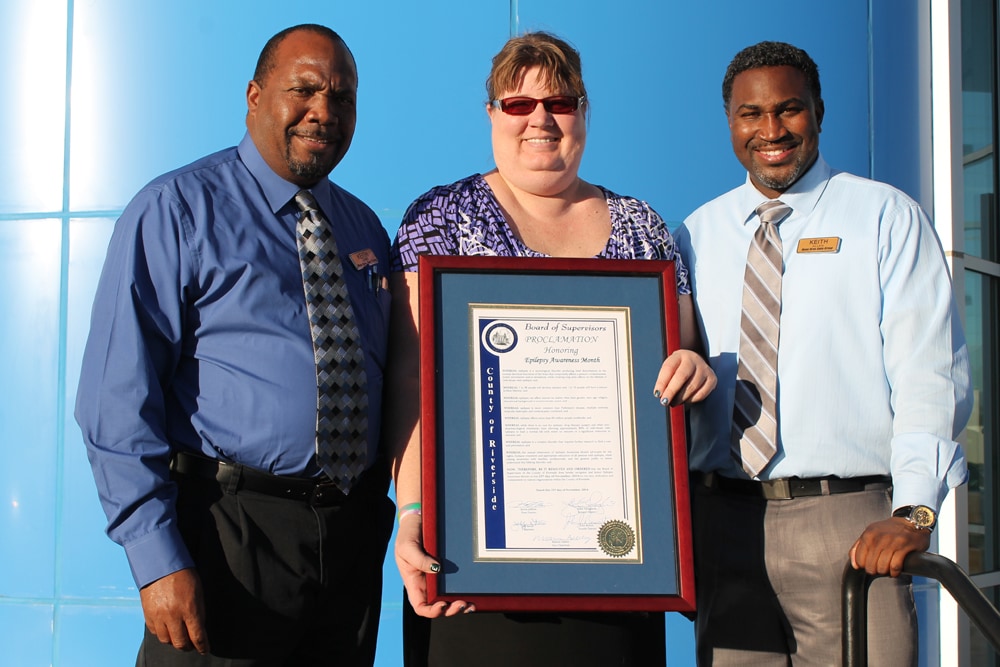 Epilepsy is a neurological condition, which affects the nervous system and is also known as a seizure disorder. It is usually diagnosed after a person has had at least two seizures that were not caused by some known medical condition. It is very common for people to be apprehensive or cautious around someone with epilepsy simply due to their lack of knowledge. However most people either know or associate with someone who suffers from epilepsy on a daily basis and may not even know it. Epilepsy is the fourth most common neurological disorder and affects people of all ages. In fact, 1 in 10 will have a seizure and 1 in 26 will develop epilepsy.
We have had the opportunity of learning more about epilepsy from a Moss Bros. customer named Meghan Kennedy, who we have had the privilege of working with over the last decade. She has taught us many things that we did not know and helped us to understand more about people with epilepsy and how this disorder effects them on a daily basis.
Meghan was first diagnosed with epilepsy when she was 18 years old and in college. This was a new and scary time for her because she had never suffered from epileptic symptoms before, and did not have a family history of epilepsy. Even though she had febrile seizures until she was two, she had never exhibited any signs of epilepsy. She needed to make many adjustments and changes to make sure that she was safe. Having seizures and epilepsy can affect one's safety, relationships, work, driving and so much more. It was at that time that Meghan saw the need for support and help from those that shared her same disorder.
One of the major adjustments that Meghan had to make in her life was her driving ability. Like many people with epilepsy, Meghan was not able to drive. In fact, she went 9 years without a license. She learned to rely on public transportation and adjust her daily schedule, job, shopping, recreation, and other activities around public transportation schedules. With lifestyle changes and the right medication, her seizures subsided and Meghan was able to drive again. Moss Bros. Auto Group was her first stop in 2004 when she wanted to buy her first car--a Toyota Prius. Her service guy for many of these years has been Keith Lewis. In 2012, when her Toyota Prius was approaching 200,000 miles, Meghan started talking with salesman Keith Allen. Keith and Meghan discussed various options and vehicles that Meghan was interested in trying to find a car that would best suit her needs. After many months of research, emails back and forth, and numerous phone calls between Keith and Meghan, it was time for her to buy her new car--a Honda Insight.
Transitioning from a life without a car to then having one allowed Meghan the opportunity to take a larger role in a cause that is close to her heart. Meghan is the Executive Director of an organization called Epilepsy Education Everywhere (EEE) using her love for education and her history with epilepsy to not only educate others, but also provide help for those coping with the adjustments of epilepsy. The mission of EEE is to help people with epilepsy by educating the public about epilepsy, including proper procedures when a seizure occurs; by showing the historic progress of people with epilepsy; and encouraging people with epilepsy to persevere.
Some of the recent accomplishments of the EEE include:
Participating in the 2nd Annual Epilepsy Awareness Day at Disneyland.
Reaching over 100,000 people annually through our Facebook page.
Being an active member of the Inland Empire Disabilities Collaborative.
Educational in-service for school nurses and teachers with Lake Elsinore Unified School District and County of Riverside Superior Court.
Assisting individuals with epilepsy (including parents) when requested.
Developing Signs Up for Epilepsy Initiative
Getting an Assembly Concurrent Resolution for Purple Day®, an International Day of Awareness for people with epilepsy, from the State of California.
For more information please visit http://www.epilepsyed.org, or follow them on Facebook or Twitter.
We at Moss Bros Auto Group are very happy to have played a small role in the life of Meghan Kennedy and her ability to help others gain information about epilepsy. We are very thankful for the hard work and dedication of our sales staff that work with countless customers on a daily basis and strive to provide them the bust customer experience to find them the car of their dreams. If you would like help finding the car of your dreams, please visit MossSavings.com for more information.