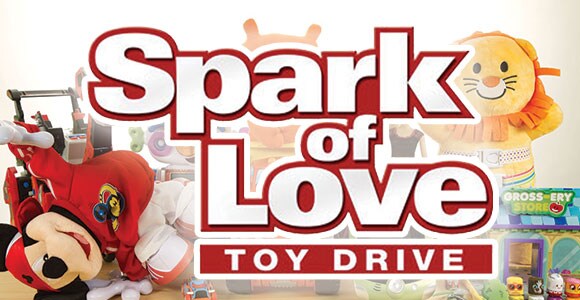 For over 20 years, CAL Fire and local county fire agencies with the combined generosity of businesses and residents have worked together to collect and distribute toys in our local community. This holiday season, Moss Bros. Auto Group is proud to lend our support to the common goal of ensuring that children in need have a gift to unwrap during the holiday season.
Donations of any size help make a difference in a child's life. Those wishing to contribute may drop of a new, unwrapped toy or sports equipment at any of Moss Bros. Auto Group's eight new car dealerships in
Riverside, San Bernardino or Moreno Valley
or at any fire station in Riverside or San Bernardino county and throughout Southern California beginning November 25, 2014. Gifts will be distributed to underserved children right here in our community in time for the holidays. New, unused, unwrapped toys for every age are appreciated. Every year, however, there has been an urgent need for items for teenaged youth and toddlers aged 0-2. All toys, sports equipment and gift cards that are donated are distributed to children in the communities in which they were donated.
The "Spark of Love Toy Drive Fund" was created in 2004 at the California Community Foundation to provide toys or sports equipment for underserved children during the holiday season in Southern California. Contributions to the California Community Foundation represent irrevocable gifts subject to the leg an and fiduciary control of the foundation's board of directors. For more information, please visit
www.calfund.org
.
For additional San Bernardino County information please visit
www.sbcfire.org
.