On Saturday,
September 27th
, the 7th Annual Barrett-Jackson Las Vegas Auction was held at the Mandalay Bay Event Center. Over 200 vehicles were on display and up for bid from beautifully restored classics to the hottest vehicles hitting the pavement
today
. Bringing in a large crowd of not only spectators, but also bidders from all over the world, Barrett-Jackson had one special item on the auction block.
A one-of-one 2015 Dodge Challenger SRT Hellcat was donated by Chrysler Corporation as part of a charity auction benefiting Opportunity Village. Opportunity Village is an organization that helps individuals with learning disabilities and their families find opportunities that have previously been unattainable. Established in 1954 Opportunity Village has grown from having just a few families working together to a being Nevada's largest private, not-for-profit community rehabilitation program, serving more than 3,000 people annually through vocational training, community job placement, art & life skill enrichment, advocacy, and social recreation programs.
Normally the auction amount for a car as new as a 2015 model Dodge Challenger SRT Hellcat, wouldn't go for a huge amount of money, but this wasn't just any 2015 model. This was VIN #700001, a one-of-a-kind vehicle made for this special event. Not only is it filled with exclusive features, it also has a Viper-exclusive Stryker Red exterior which will be the only production Hellcat model hand-painted at the Viper facility. Inside the Challenger you can find an authentic forged aluminum supercharger plenum cover, a HEMI painted presentation box containing a full-sized iPad loaded with a VIN 700001 electronic vehicle build book and video documentary. Also on the iPad were vehicle photos, video, and engine dyno run results. To top it all off the iPad also came with an authentic Challenger SRT Hellcat embossed Laguna Leather iPad sleeve, an SRT Hellcat lithograph signed by the Chrysler Design Team and a unique Birth Certificate for VIN 700001. It was with all of these features that this vehicle was so coveted amongst car fanatics. With all of these special features and documentation this truly was a one-of-a-kind vehicle that is extremely valuable.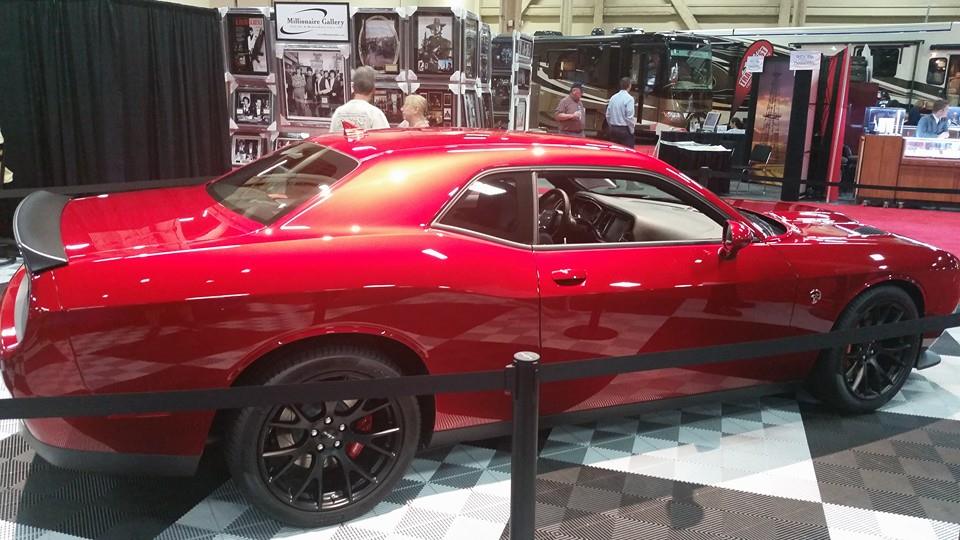 The vehicle roared into the arena accompanied by Vegas icons Wayne Newton and Penn Jillette, both longtime supporters of the Opportunity Village Foundation. Wayne Allen, General Manager of Moss Bros Chrysler Dodge Jeep Ram of San Bernardino was able to attend this special event along with some of the Mopar360 family. His group of Mopar enthusiasts were able to get some awesome pictures of the Hellcat before it went up for auction and also some footage of the auction itself. When all was said and done the Challenger sold for $825,000.00, which was then immediately matched by the Engelstad Family Foundation, making the grand total $1.65 million. These generous donations made this the highest amount a vehicle has raised for charity in Barrett-Jackson history.
It is through events like this that it makes us very proud to be a part of the Dodge family and all that they do to help others and those in need.