It's time to spring into action with the Moreno Valley Relay for Life event this May!

Relay for Life is a fundraising walk that is hosted by the American Cancer Society and provides inspiration and hope for millions of cancer survivors and their caregivers. Though the dedication and fundraising efforts of Relay participants, the American Cancer Society is able to make progress in helping find new ways to fight against the disease. Moss Bros. Auto Group is working alongside the Moreno Valley Relay for Life organizers to help raise awareness and support for programs that fight and give hope to many battling cancer.
Among the many activities, there is a Fight Back Ceremony that symbolizes the commitment each of us can make in the fight against cancer; a Luminaria ceremony that allows participants to remember those that have been lost to cancer; and the most touching is the Survivors Lap, where cancer survivors at the event walk the first lap around the track together. All of the Moreno Valley teams will get together on May 16th, 2015, at Valley View High School from 9am to 12am to take turns walking around the track and help cheer on other participants.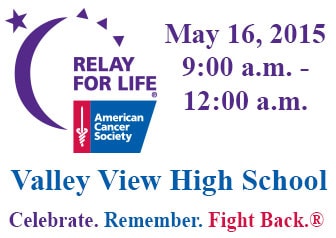 Denita Andrews, an employee of Moss Bros., has championed this event for over 18 years as our Relay for Life team captain. Through her leadership, the employees have worked hard participating, have helped raise contributions, and allowed Moss Bros. to be a Presenting Sponsor for over 4 years. Our team of employees wish to bring more birthdays and hope to others through this event.
Moss Bros. Auto Group had a huge success last year, holding a Ram Truck test drive event to help in our team's fundraising efforts. Participants and spectators enjoyed the opportunity to drive some of the latest Ram truck models. Each test drive resulted in a donation from Ram. Our Moss Bros. employees raised a total of $15,000 for the American Cancer Society and did a fantastic job organizing and had a great time walking in support of such a wonderful cause.
For more information, please visit the Moreno Valley Relay for Life event page.
While the American Cancer Society is making progress toward a world without cancer, only with your dedication and fundraising efforts can we finish the fight against this disease.