For the 29th year, the Moreno Valley Sheriff's Station will be hosting the annual Operation Holiday Cheer Program. The program consists of four separate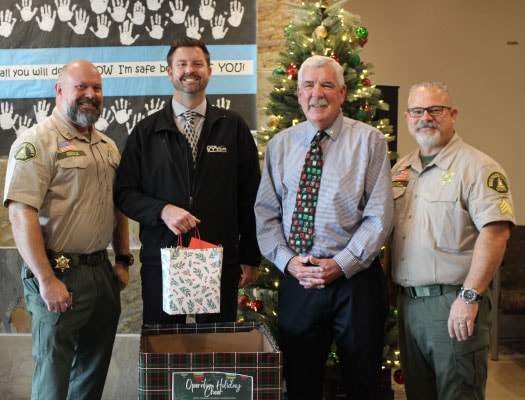 events including Shop with a Cop, the Holiday Parade, the catered Holiday Cheer Banquet, and a Tree Delivery.
The generous support of Moreno Valley business, residents, and civic leaders enable the program to reach hundreds of families and children with toys, gift cards, trees, candy and clothing items. This year, Moss Bros. Auto Group has donated $1200 in gift cards that will be used for Shop with a Cop or will be given directly to families in our community.
The outreach program is intended to brighten the lives of children and adults in our community during the holiday season, as well as foster good will between members of the community and the Moreno Valley Sheriff's Station. We are delighted to participate and are grateful for all our local law enforcement personnel and applaud the excellent work they are doing in our communities.
We would like to thank Captain Kenneth Reichle, Sergeant Powell, and Deputy Wortham for allowing us to be a part of this special initiative.
To find out how you can support this program, please contact the Moreno Valley Sheriff Station's Community Services Unit at 951-486-6942.