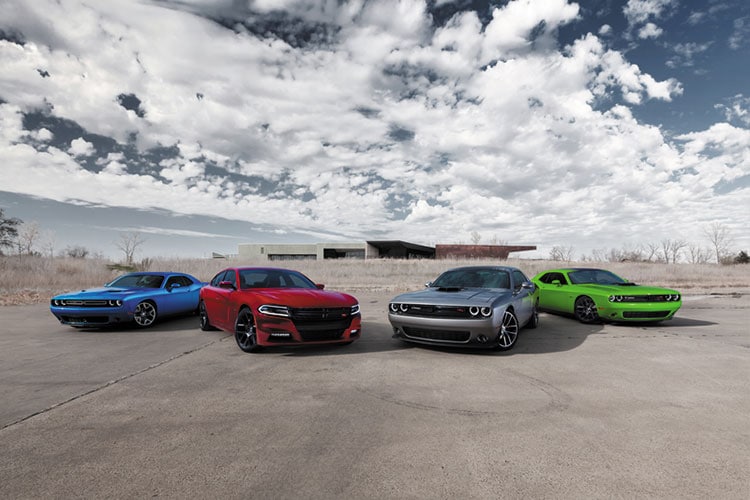 Dodge. The name itself conjures images of hard working, tough Americans. With almost a century of manufacturing automobiles, Dodge is one of the most long-standing brands in the United States. With Dodge being one of the subsidiaries of Chrysler, consumers who purchase a Dodge know exactly the kind of high quality automobile they're driving. Here at Moss Bros. Auto Group, we also understand that quality, which is why we make several different Dodge makes and models available for purchase at our Riverside Dodge, San Bernardino Dodge and Moreno Valley Dodge locations.
Quality and customer care are the two hallmarks of working with Moss Bros. at any of our locations, no matter whether you purchase a Dodge, Toyota, or a Volkswagen. We believe in making sure that your purchasing experience isn't a difficult one, so we make ourselves available to answer any questions or respond to any concerns you may have about buying a car. With so many varieties of new and used cars available at our dealerships, we understand how difficult it can be to make a decision, so use our experience and ask us the tough questions. To get in touch with one of our associates at the Moss Bros. Chrysler Jeep Dodge Ram Riverside dealership, call 855-777-2770.
Whether you're looking for a Dodge Charger, Challenger Hellcat, Durango, Journey, or Grand Caravan, we have the car for you, in several colors, years, and conditions. If you want to venture outside of the Dodge family, and pick up a Toyota, Volkswagen, or Honda, we can take care of you there as well. Purchasing a car is hard enough as it is; make it easier by working with Moss Bros. Auto Group.
Contact Moss Bros. Chrysler Dodge Jeep Ram Riverside
Contact Moss Bros. Chrysler Dodge Jeep Ram San Bernardino
Contact Moss Bros. Chrysler Dodge Jeep Ram Moreno Valley
Sales Department Hours
Monday

8:30am - 9:00pm

Tuesday

8:30am - 9:00pm

Wednesday

8:30am - 9:00pm

Thursday

8:30am - 9:00pm

Friday

8:30am - 9:30pm

Saturday

9:00am - 9:30pm

Sunday

9:30am - 9:00pm
Service Department Hours
Monday

7:00am - 5:30pm

Tuesday

7:00am - 5:30pm

Wednesday

7:00am - 5:30pm

Thursday

7:00am - 5:30pm

Friday

7:00am - 5:30pm

Saturday

7:00am - 5:00pm

Sunday

Closed