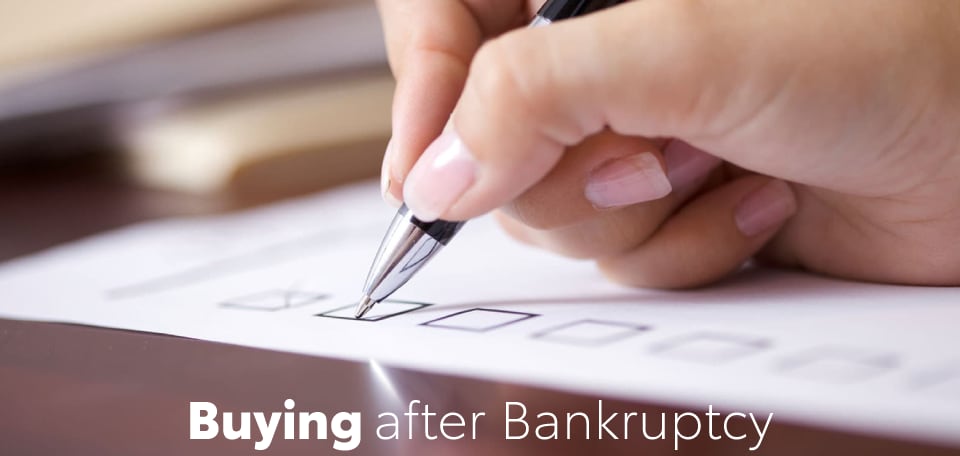 Yes! You can purchase a vehicle after bankruptcy. There, we've said that, so hopefully you can relax during this extremely stressful time knowing that you can buy a vehicle to get you where you need to go. Even better, you have options. Lenders are interested in working with borrowers who are recovering from financial difficulties and dealers like Moss Bros. want to sell you a car. Here's what you need to know:
It's a good idea to check your credit.

This is probably going to be the part that makes you groan. But, the dealers and potential lenders are going to see it so you should be familiar with it too. You may be asked questions about some of your balances. Your answers might help you secure a vehicle loan. So look it over, and be prepared. Also, you may see mistakes which you can address and get corrected.

Be ready to discuss your previous auto loan

Having knowledge of specifics of your previous auto and any outstanding auto loans will be handy. Ask yourself "Was there a previous car loan involved with the bankruptcy? Was that car reaffirmed? (meaning you agreed to continue to pay the loan rather than wiping it out) If the loan is reaffirmed, the is the account showing on your credit report?". If you didn't reaffirm the auto loan, bring the payment history with you from before. If you were diligent in paying it before that BK, it may count in your favor now and create a positive credit history with auto loans.

Gather your financial documents

Collect all of your pay stubs, a copy of your credit report, and copies of previous auto loan payment documentation to bring with you to shop for a vehicle or get pre-approved for a car loan. The day will go smoother and will increase the likelihood you'll drive home in something new that day.

Have a down payment

By having cash or a trade-in vehicle as a down payment you become less of a risk to potential lenders. It means you're financing less and will start with a little bit of equity in the vehicle.

Check your insurance rates and requirements

Call your vehicle insurance company and ask what their rates and  requirements are for your situation. Shop around and get competitor quotes as well. Some insurance companies may require you to be "fully" insured. Find out what that means for each insurer and how much. Additionally, your lender may require Gap Insurance. Ask you insurance company for their rates on this as well.

Don't expect to be able to buy a luxury vehicle

For your first vehicle post-BK, you'll need to think practical, not luxury.  Luxury vehicles come with higher purchase prices and insurance and lenders are looking to minimize their risk. Be realistic with a budget for a cay payment that you can afford. Factor in insurance, fuel and maintenance costs. All of these items are often more expensive on luxury vehicles.

Avoid the worst loans

Shop several lenders to find the best rate for you, but know that the rate will be higher than average. There will be lenders out there who will quote exorbitant interest rates who will assume you're not shopping around. Protect yourself with multiple quotes and read all the terms carefully before signing.
Once you find and purchase your vehicle post-BK, stay diligent. Pay on time and you may be eligible to refinance six to twelve months later. An auto loan helps rebuild your credit after bankruptcy, couple that with a consistent payment history and you might just help yourself into a better loan and credit position (this is never guaranteed, so plan practically).
Start Your Application
* Indicates a required field