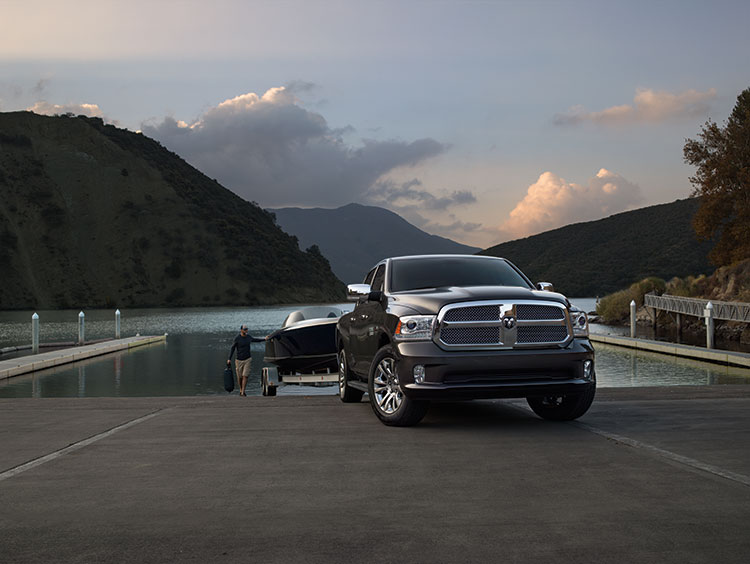 One of the newest truck brands out on the market, Ram Trucks used to be known as Dodge Ram trucks until they were spun off into their own brand by the Chrysler Auto Group. Now, with many different models of Ram trucks, there's no better purchase for those looking for a rugged new pickup truck.
Since it's a relatively new brand, the different Ram models are known only by their numbers at this point, ranging from the 1500 to the 5500, with a Cargo model thrown in as well. Obviously, the size of the truck you purchase is going to depend entirely on your needs. If you are using your truck to go on frequent camping trips, or to haul away debris, or to simply have the feel of a powerful machine every time you drive, then that will dictate which model you purchase from our Moss Bros. dealership.
Conveniently located for any of those driving from Ontario, San Bernardino, Corona, Temecula, or Riverside, our dealerships have hundreds of different Ram trucks to choose from. That kind of selection can get a little daunting, we know. Once you've determined that a Ram is the right pickup for you, the next best thing to do is figure out exactly what size of vehicle you need. Carrying capacity is one of the more important factors when it comes to purchasing a pickup, and only you'll know how much you'll need. If you have an idea of what Ram truck you might want, but are not entirely sure, our representatives at any of our dealerships would be happy to point you in the right direction.
Contact Moss Bros. Chrysler Dodge Jeep Ram Riverside
Contact Moss Bros. Chrysler Dodge Jeep Ram San Bernardino
Contact Moss Bros. Chrysler Dodge Jeep Ram Moreno Valley
Sales Department Hours
Monday

8:30am - 9:00pm

Tuesday

8:30am - 9:00pm

Wednesday

8:30am - 9:00pm

Thursday

8:30am - 9:00pm

Friday

8:30am - 9:30pm

Saturday

9:00am - 9:30pm

Sunday

9:30am - 9:00pm
Service Department Hours
Monday

7:00am - 5:30pm

Tuesday

7:00am - 5:30pm

Wednesday

7:00am - 5:30pm

Thursday

7:00am - 5:30pm

Friday

7:00am - 5:30pm

Saturday

7:00am - 5:00pm

Sunday

Closed